UL ELECTRIC MOTOR LAB INTRODUCTION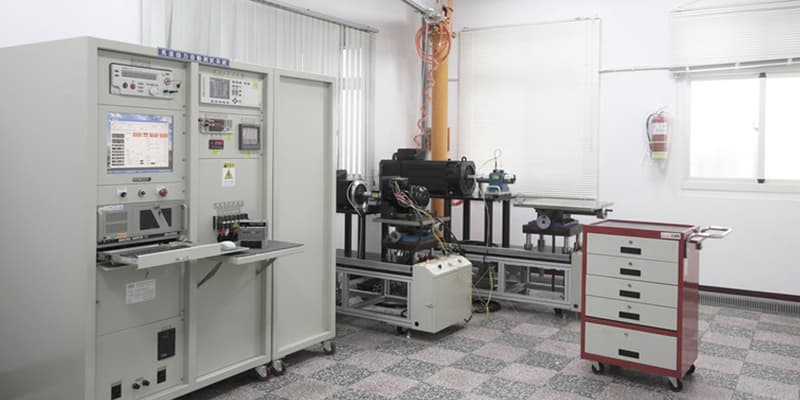 UL (Underwriters Laboratories) is a well-known authorized third party who provides safety consulting and certification for many products. Kuo Shuay set up the first UL safety and efficiency evaluation laboratory in electric motor industry in Asia-Pacific, which is the 5th UL safety and efficiency evaluation laboratory in the world. Our lab is only open for our customers, making sure the capacity of test and able to service our customers in time.
Kuo Shauy designs and tests motors followed by the UL-standard. We committed to making more reliable product since the first beginning, giving our customer great confidence. Customers could save certification time through the UL lab and can have widely recognized and trusted test report.
Advantage
Equipped with independent power supply, voltage and frequency fluctuation during the test will be fully controlled. The power used for the assembly line is separated from the laboratory and will not affect the test.
We design our motors according to the requirement of UL standard at the starting point. Widely shorten the leading time for certification and prevent unnecessary or re-do test.
Key equipment is well-known brands from Germany and Japan with precise and accurate test capability.
Provide suitable equipment for various motors, depend on different horsepower and torque performance.
Temperature rising test and efficiency test are evaluated extensively, including different frequency (50 ~ 60Hz) and voltage (200 ~ 760V).
Test requirements from different areas such as North America, Europe or Japan are not the same. Kuo Shuay could test and collect all the necessary data at once, and give reports fast based on the need of customers. For example, CNS14400 for Taiwan, JISC4034 for Japan, UL1004 for North America, CSA C390 for Canada, NEMA MG-1 for U.S. and IEC60034 for Europe.
Efficiency level is in compliance with the U.S. Department of Energy (DOE) CFR-C431. The average efficiency is based on the nominal efficiency.
Service Case 1: How the UL lab helping our customer
Customers H is a Korean blower manufacture. They planned a new project targeting the U.S. market. Before they find Kuo Shuay, their previous motor supplier took a lot of time developing the motor because they did not familiar with the U.S. efficiency regulation. They sent motor sample to U.S. UL lab. The airfreight cost was expensive and after the motor arrived the lab in U.S., they need to wait the motor to be tested. Due to the test fail, UL request them to modifiy the motor design and resend the sample. They re-do their design again and again and kept resending their samples.
After Kuo Shauy took over the project, we reviewed the customer's need carefully, providing competitive option and making sure the design of motor is following the UL standard at the first beginning. All tests are finished in our UL lab in Taiwan. The time between the first sample and obtaining the UL certification is only two and half month. Our customer is able to sell their product in time after they find us and also feels much more confident about their product.
Service Case 2: Off-the-shelf UL certified motor from our database
Customer M is a Canadian food machinery manufacturer. Due to the time schedule, they hoped to seek motors that have been UL or CSA certified for their first generation product. Kuo Shuay cooperates with UL for many years. we have hundreds of UL certified motors. According to the requirement, we can choose a suitable product for our customers. After discussing with the customer M, our engineer quickly found a suitable UL certified motor from our motor database according to the customer's needs, appearance, output, length limitation, etc. In the end, our customer saved valuable time and money, and quickly completes their project.
Article Classification
Related Articles
Article keywords