Professional Taiwan Electric Motor Manufacturer

KUO SHUAY Industrial Co., Ltd. is a Taiwan professional AC motors manufacturer. We own the first UL motor lab in Asia-Pacific. The product include standard and customized motors, which are designed for variety of industry and commercial applications including food machine, CNC machine, treadmill, blowers, agriculture, pumps, SPA& pool, stackers, electric carrier and gate opener.

Found in 1988, we are ISO9001 factory and have third-party certification unit UL to audit our factory per quarter. Current factory is around 5000 square meters, and there is a new part of factory is under construction. Our annual revenue is around 18 million USD, and keeps growing year by year.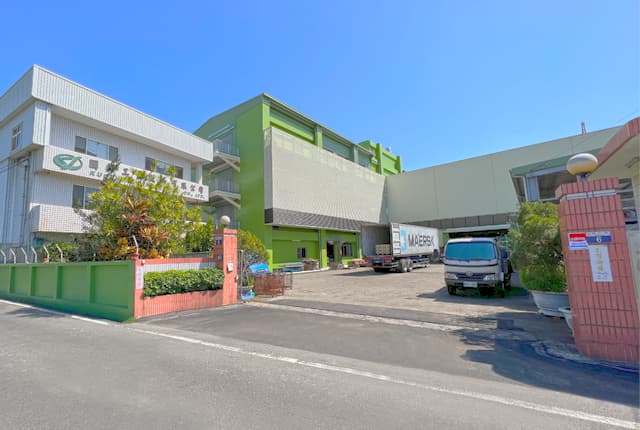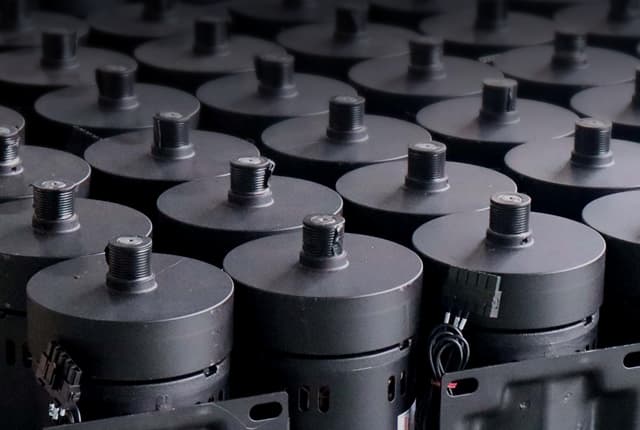 Offer AC Motor from 0.01KW~15KW

We currently design and manufacture AC motors from 0.01kW to 15kW. The standard IEC motors are from 0.25HP to 20HP. Motors are designed by our R&D team from the first beginning, including lamination slot design, tooling developing, and material chosen. We dedicate to making differentiation from the market. Our motors have better performance and efficiency and can be applied with different voltage and frequency. Kuo Shuay has been designing and manufacturing AC induction motors for more than 30 years. Whether it is inverter speed control motor, energy-saving IE3 motor or widely used single phase motor, are all specialized by Kuo Shuay.
Provide Service for Customers from Different Countries and Area
Kuo Shuay has clients come from many different countries. We are well-experienced for exporting and packing motors to different countries and complied with the latest law of local authorities. We believe the quality of our motors is the most important thing for our customers. Therefore, Kuo Shuay insists 100% check for all key components of motor and the final products. Through the strict quality control, we make sure the stability of our motors and build long relationship with our oversea customers.
Why choose Ksmotor

CAPABILITY
Motors can be applied to various industries and place. We offer both general purpose and definite purpose motors. If you cannot find the off-the-shelf products, our well-experienced engineer could also customize a motor which just suited for your specific requirements.

SERVICES
We are not only offering the most competitive design and perfect solution, but also providing the instant technical support for our customers. Our product includes both standard motors and customized motors. All products are design by our own developing team.

ADVANTAGE
New motors are developed and tested under strict UL regulation in our laboratory. The lead time for a new product getting certification is relative short. We could provide a fast solution from initial design to mass production, offering our customers reliable and trustful product
Third Party Certification UL Endorsement
Kuo Shuay owns the first UL electric motor laboratory in Asia-Pacific, helping our customer quickly pass the UL test and get certification. Our motor design is based on the safety concern of UL standard and also complying to IEC international standard. We could also evaluate the customers' need, providing customized motor and offering the best solution to our customers.
Certifications of Kuo Shuay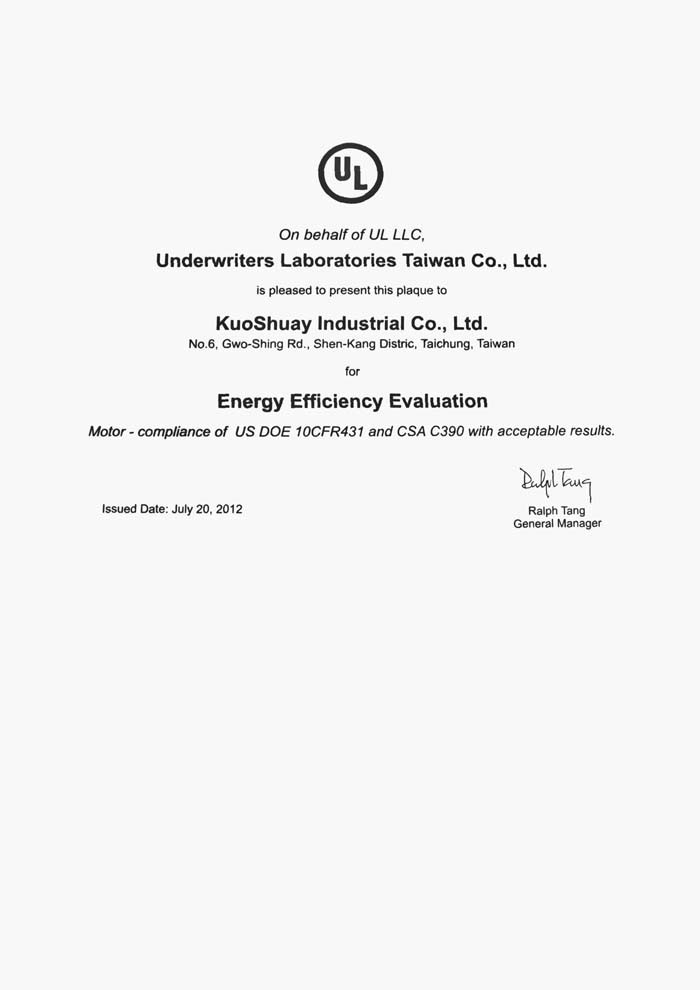 UL efficiency evaluation laboratory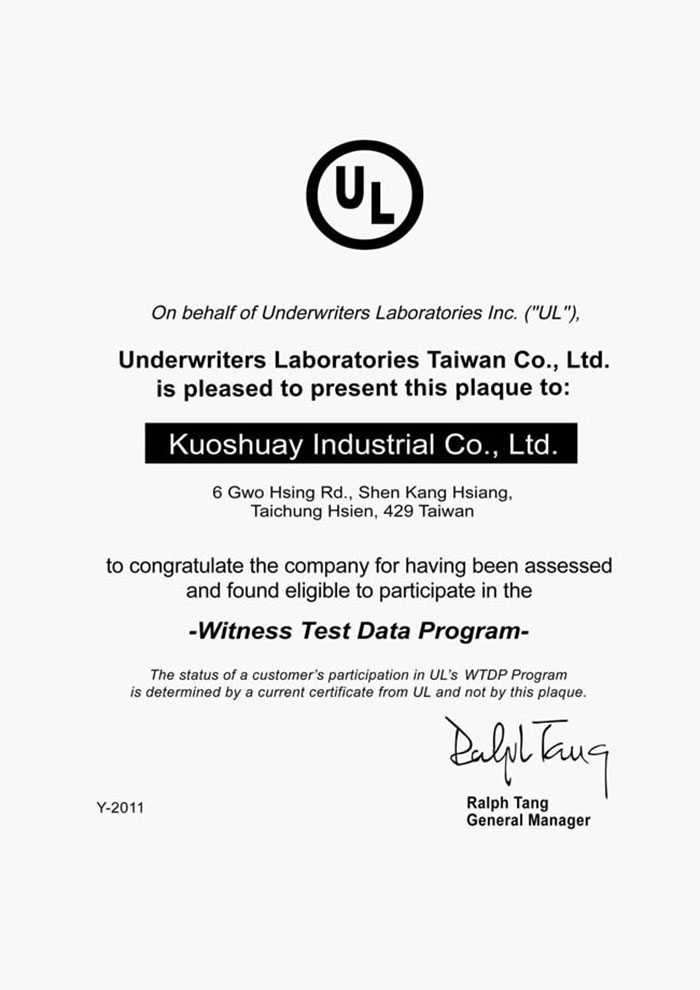 UL WTDP laboratory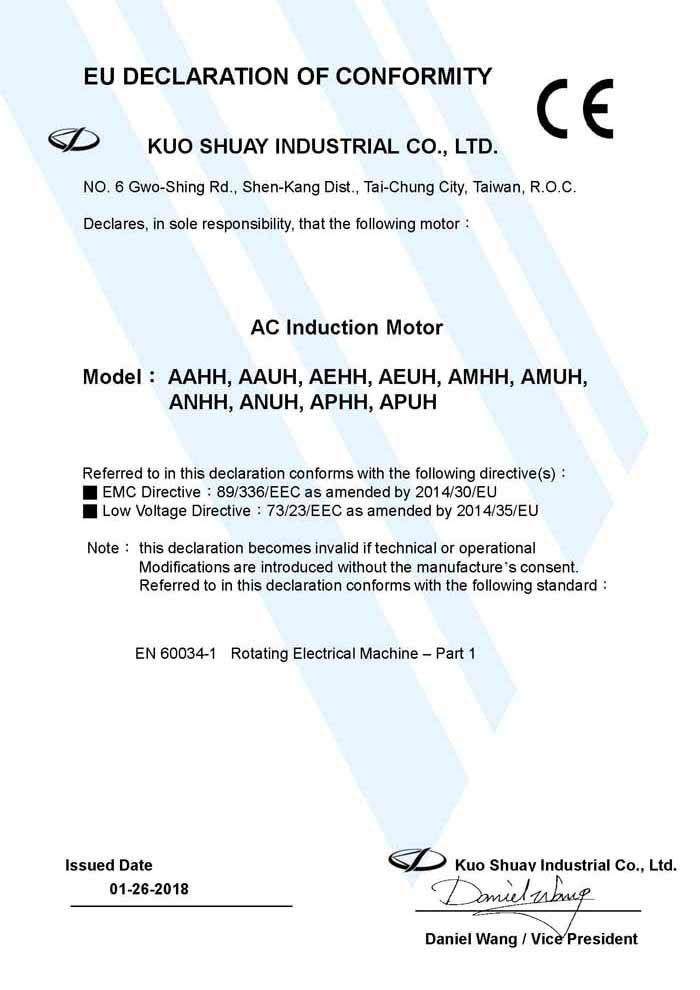 Europe CE/IE3 motor declaration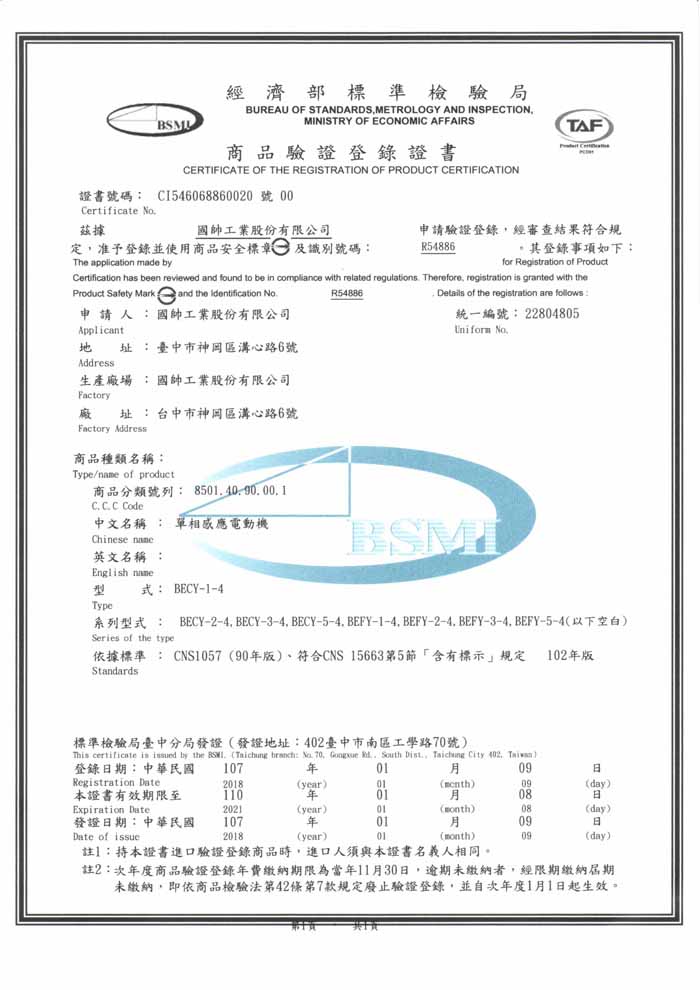 BSMI certification(single phase)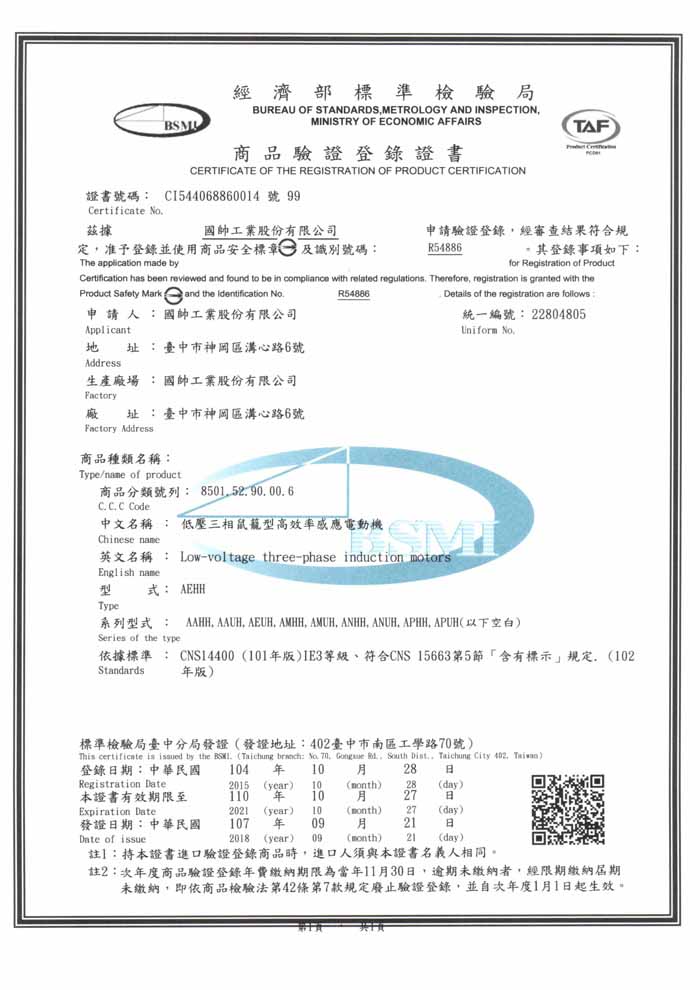 BSMI certification(three phase)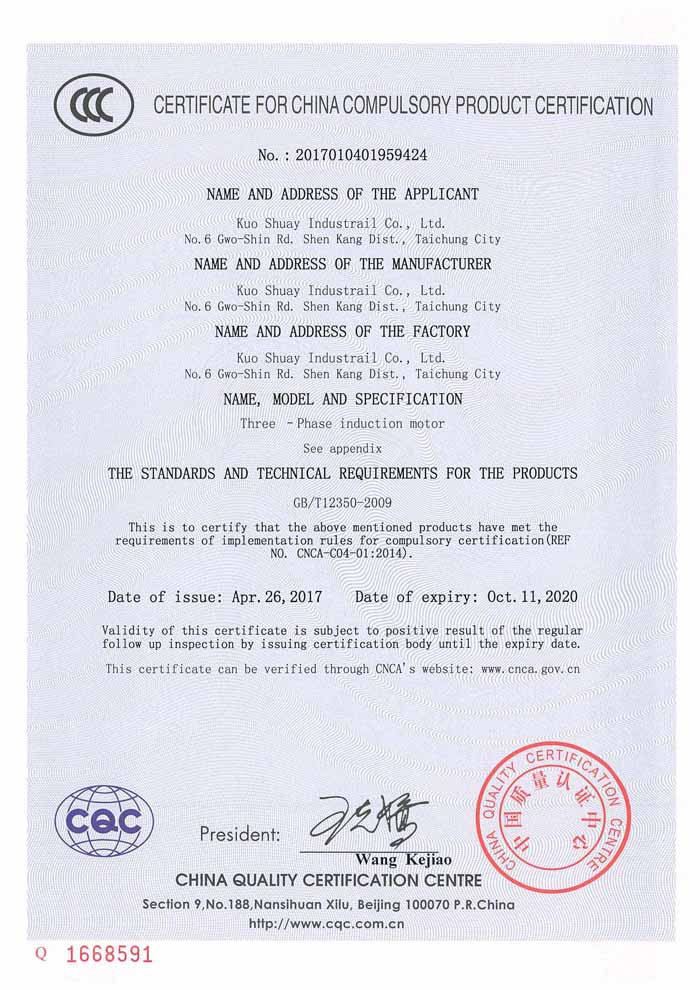 China 3C certification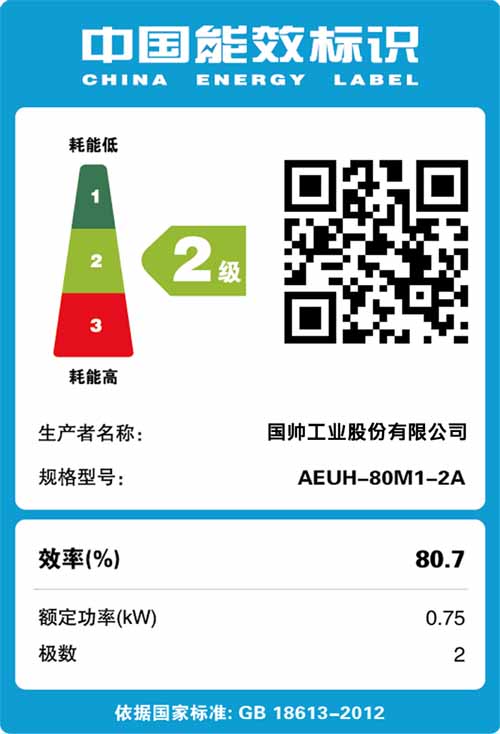 China Energy Label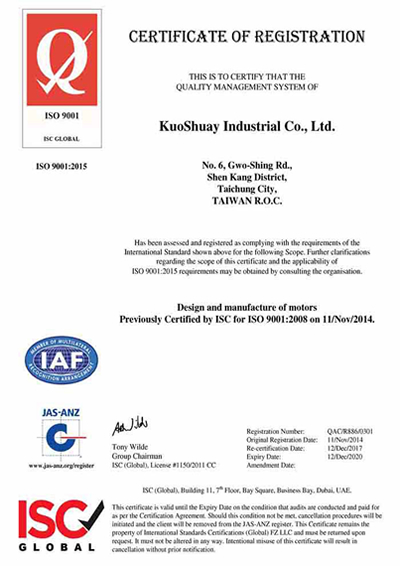 ISO certification