UL RECOGNIZED IE3/IE4 PREMIUM EFFICIENCY MOTOR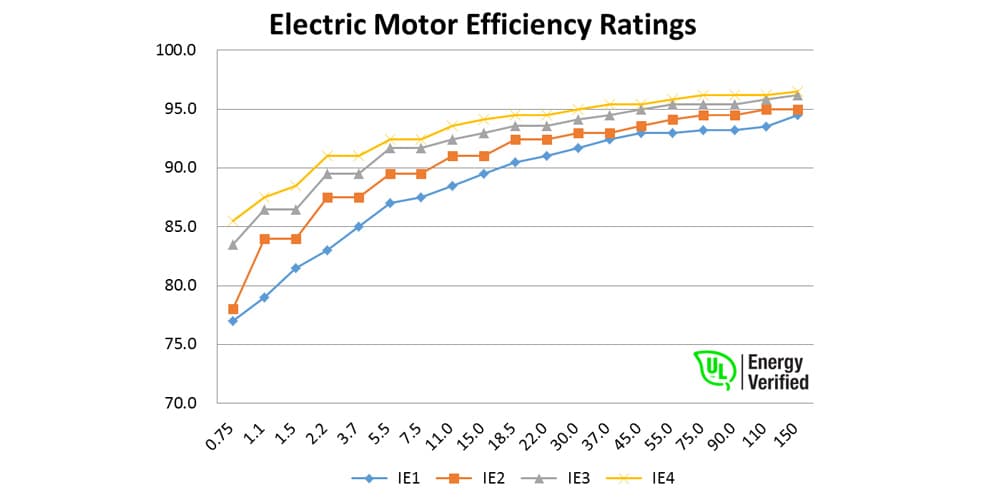 UL recognized IE3/IE4 premium efficiency motors have lower energy consumption, and have been approved by the DOE (Department of Energy) in U.S. The efficiency test was done in our UL energy evaluation lab based on UL1004-1. Because we have our own UL lab, we can further test required voltage and frequency. Currently, the standard premium efficiency motor can use in wide range of voltage from 200~480V in both 50 and 60Hz. Furthermore, our UL recognized premium efficiency motors meet both minimum efficiency requirements and the nominal efficiency.
UL Premium Efficiency Motor and IE3/IE4 Motor
Kuo Shuay's UL premium efficiency motors are also IE3 motor. According to IEC 60034-30-1 Standard, the efficiency level of three-phase induction motor has been defined as IE1 (Standard), IE2 (High), IE3 (Premium) and IE4 (Super Premium). Compared to IE1 motors, IE4 motors run with higher efficiency and are more durable and energy-saving.
〈Further reading〉
Table of Nominal Efficiencies
Service Case: Upgrade the motor to IE4 and save the energy cost
Customer F is an American cooling fan company. Their products are mainly installed in the factory for ventilation. We suggested them to shift the motors to premium efficiency (IE4) level because those fans run long hours a day. It could upgrade the value of the fan and also saving the energy cost for end user. Here is a case that they installed 10 pieces of 15KW motors in a factory. The owner of factory would like to know how much he could save if he change the traditional motor to IE4 (Super Premium) motor. We will calculate the energy saving cost below.
Energy Saving Example
10 pieces of IE4 motors with specification of 11kW 4P 220V 60HZ, run 12 hours a day for 5 years (each year run 365 days). The electric fee is USD $0.17 /kWh



Change motor from IE1 to IE4, USD$19150 will be saved after five years

Reference:



Article Classification
Related Articles