HIGH QUALITY ELECTRIC MOTOR TEST REPORT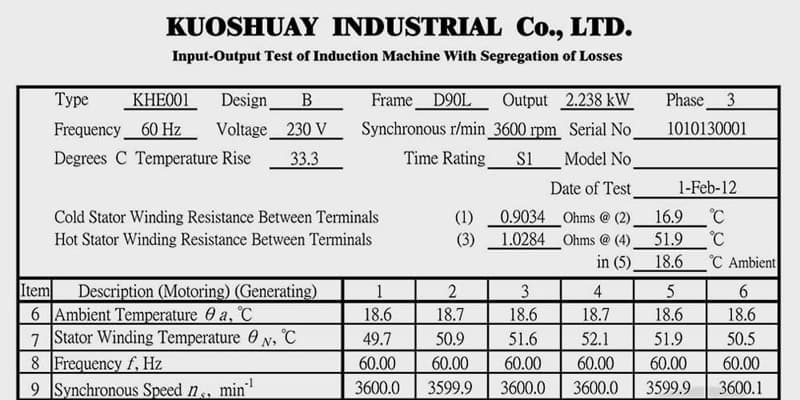 A reliable and trustworthy UL report is the best guarantee for customers. The UL test report now is widely acceptable not only for North America but all over the world. Kuo Shuay established the first UL laboratory for motors in Asia-Pacific. The equipment calibration and power quality go through a strict control according to UL regulated. The lab received calibration every quarter to maintain the highest quality of test and the power quality is strictly supervised to make sure the voltage and harmonic wave is well controlled. For energy efficiency test, the data is collect in compliance with UL14400 and IEC60034 standards, to ensure the correlation coefficient is above 0.95. It improves the reliability and stability of the test value, and provides the test report which can be reviewed and approved by various international certification authorities.
Test Report for different requirements
Our test is not only covering UL, but also for IEC, IEEE, JIS, GB, and the requirements of many countries and regions. During the motor designed, we will use UL certified equipment to verify the motor performance, quickly adjusting the detail of the motor to suit the regulation of target market. It will save a lot of time for re-do test and re-design of motor. Offer the motor test report in compliance with different regulation or certification. Let the product delivered to customers as soon as possible.

Article Classification
Related Articles