1HP IE3 General Purpose Motor, 3460RPM, Cast Iron Frame, Vertical
Flange Mounted IE3 Standard Cast Iron Motor
1HP IE3 General Purpose Motor, 3460RPM, Cast Iron Frame, Vertical
Frame 80M, Efficiency 82.0%
Features

UL certified, IE3 premium efficiency motor.
Dimension following the international standard.
Low noise and vibration.
Applicable for wide range voltage and frequency (200V ~ 480V with 50HZ/60HZ).
Pre-lubricated shielded bearings, not need to add extra grease.
Excellent performance with low temperature rise.
Description
1HP 2 poles motor of AEUH series is an IE3 (Premium) efficiency motor. It gets the certification including UL, BSMI, CE and GB. According to the international standard IEC60034-30, motor efficiency can be defined as IE1, IE2 and IE3. More and more countries are encouraging company to upgrade their motor to IE3 to reduce the energy consumption. The AEUH motor is cast iron frame with flange mounted. High grade electromagnetic steel is applied for high efficiency.

Ball bearings are high quality pre-lubricated double shielded bearing, low vibration and noise during operation. IP54 protection and F class insulation makes the motor more durable and maintains a long lifecycle. The working voltages covers 200V, 220V, 230V, 240V, 380V, 400V, 415V, 440V, 460V, 480V, frequency 50Hz, 60Hz. Customers can buy one AEUH motor to cover different voltages.
3 Phase Standard AC Motor, Industrial Motor, Standard Induction Motor, B5 Electric Motor, IE3 Motor
DRAWING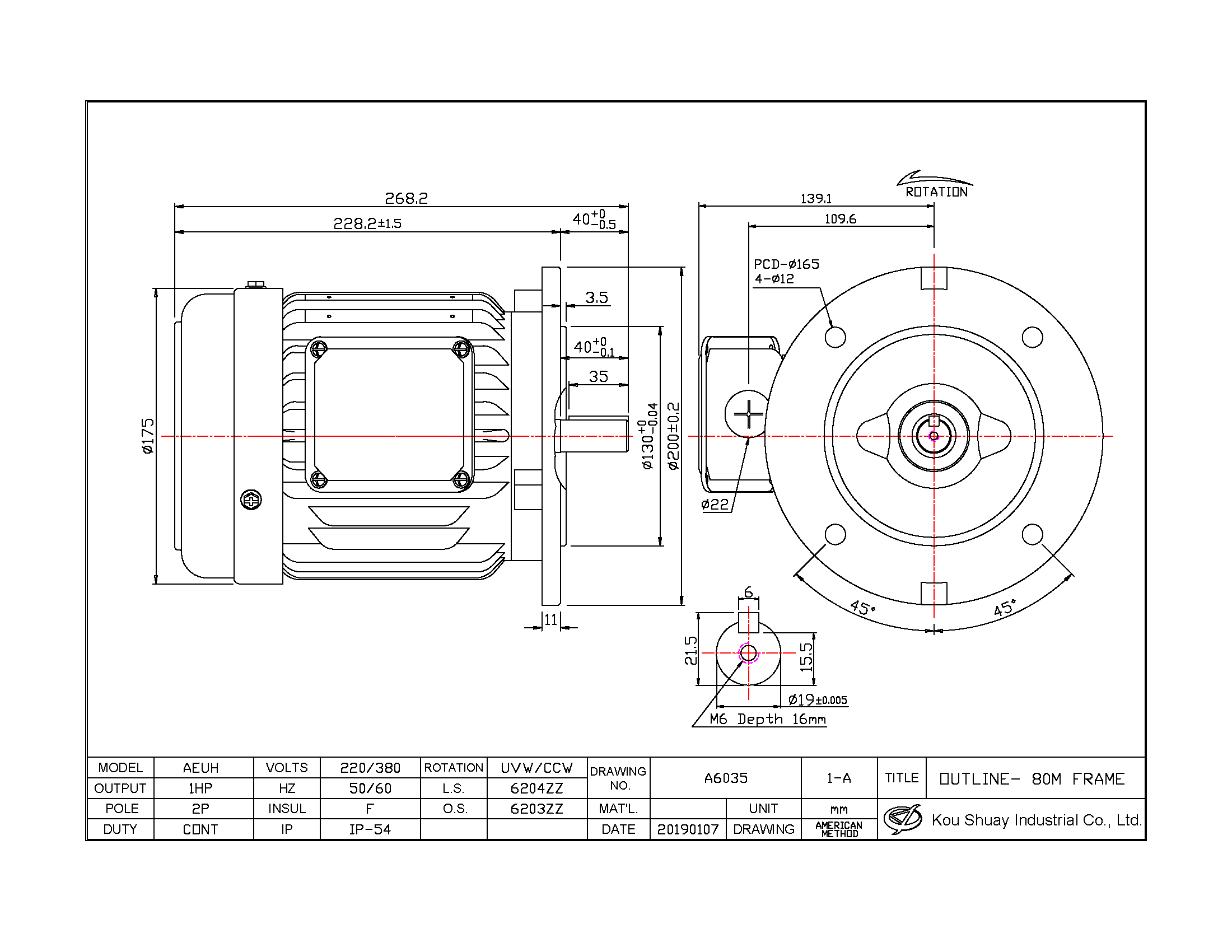 Type: TEFC (Totally Enclosed Fan Cooled)
Certification (optional): UL, GB, CE, BSMI