7.5HP IE3 General Purpose Motor, 1760RPM, Cast Iron Frame, Horizontal
Foot Mounted IE3 Standard Cast Iron Motor
7.5HP IE3 General Purpose Motor, 1760RPM, Cast Iron Frame, Horizontal
Frame 132S, Efficiency 91.7%
Features

Horizontal Foot Mounted B3
High performance bearings
Dynamically balanced pressure die-cast aluminum rotor
Cast iron frame and end brackets, strong structure.
IP54 protection.
High quality pre-lubricated bearings, easy maintenance.
Description
The 7.5HP 4P high efficiency motor has the average efficiency exceeds the nominal efficiency of IE3 regulation: 91.7%. Compared with traditional motors, it can save nearly 5% in electricity costs, and can save considerable energy consumption in long-term use.Under the requirements of high efficiency, Kuo Shuay upgraded the core material of the motor in order to reduce the core loss. The longer the operation, the more electricity costs can be saved. F class insulation is used to improve the durability of the motor, and it can have a tolerant higher temperature rise during overloaded and avoid damage to the coil or motor.

The appearance is the same as the general standard motor, and it has the standard mounting holes. Kuo Shuay has a UL certificated laboratory that can issue accurate and reliable test reports. The motor has certification including UL for North America, BSMI for Taiwan, GB3 for China, and CE for the European Union.
3 Phase Standard AC Motor, Industrial Motor, Standard Induction Motor, B3 Electric Motor, IE3 Motor
DRAWING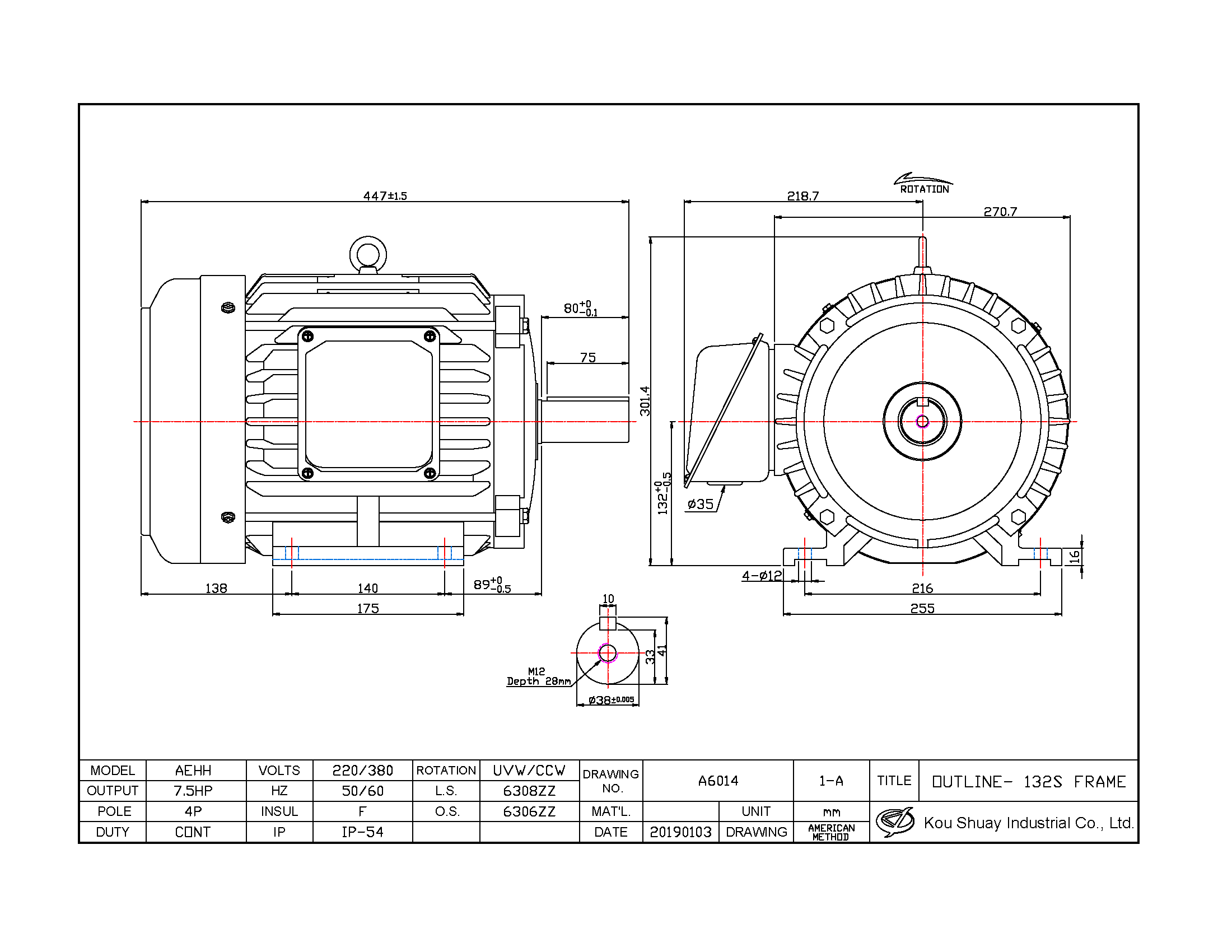 Type: TEFC (Totally Enclosed Fan Cooled)
Certification (optional): UL, GB, CE, BSMI