1HP IE3 General Purpose Motor, 1730RPM, Cast Iron Frame, Horizontal
Foot Mounted IE3 Standard Cast Iron Motor
1HP IE3 General Purpose Motor, 1730RPM, Cast Iron Frame, Horizontal
Frame 80M, Efficiency 85.5%
Features

IE3 (Premium efficiency) motor.
Rust proof painting.
High quality pre-lubricated bearings, easy maintenance.
Corrosion-resistant coating
Cast iron frame and end brackets, strong structure.
IP54 protection.
Description
1HP4P high efficiency motors. Diameter of mounting holes and method of installation are in accordance with IEC international standard, which makes the motor become interchangeable. Applicable voltage and frequency can cover from 200V to 480V, frequency 50Hz, 60Hz, and meet the IE3 efficiency at all voltage. Customers could control their inventory easier and use the motor to different countries without any changes, effectively reduce the inventory cost.

With the increase of energy saving awareness, many countries have modified energy law for motor efficiency. The AEHH series is the high efficiency (NEMA Premium Efficiency) series for Kuo Shuay standard cast iron motors. Obtained certifications include UL (North America), BSMI (Taiwan), CE (Europe) and GB3 (China). It also obtains D.O.E. (Department of Energy) authorization to sell in U.S.
3 Phase Standard AC Motor, Industrial Motor, Standard Induction Motor, B3 Electric Motor, IE3 Motor
DRAWING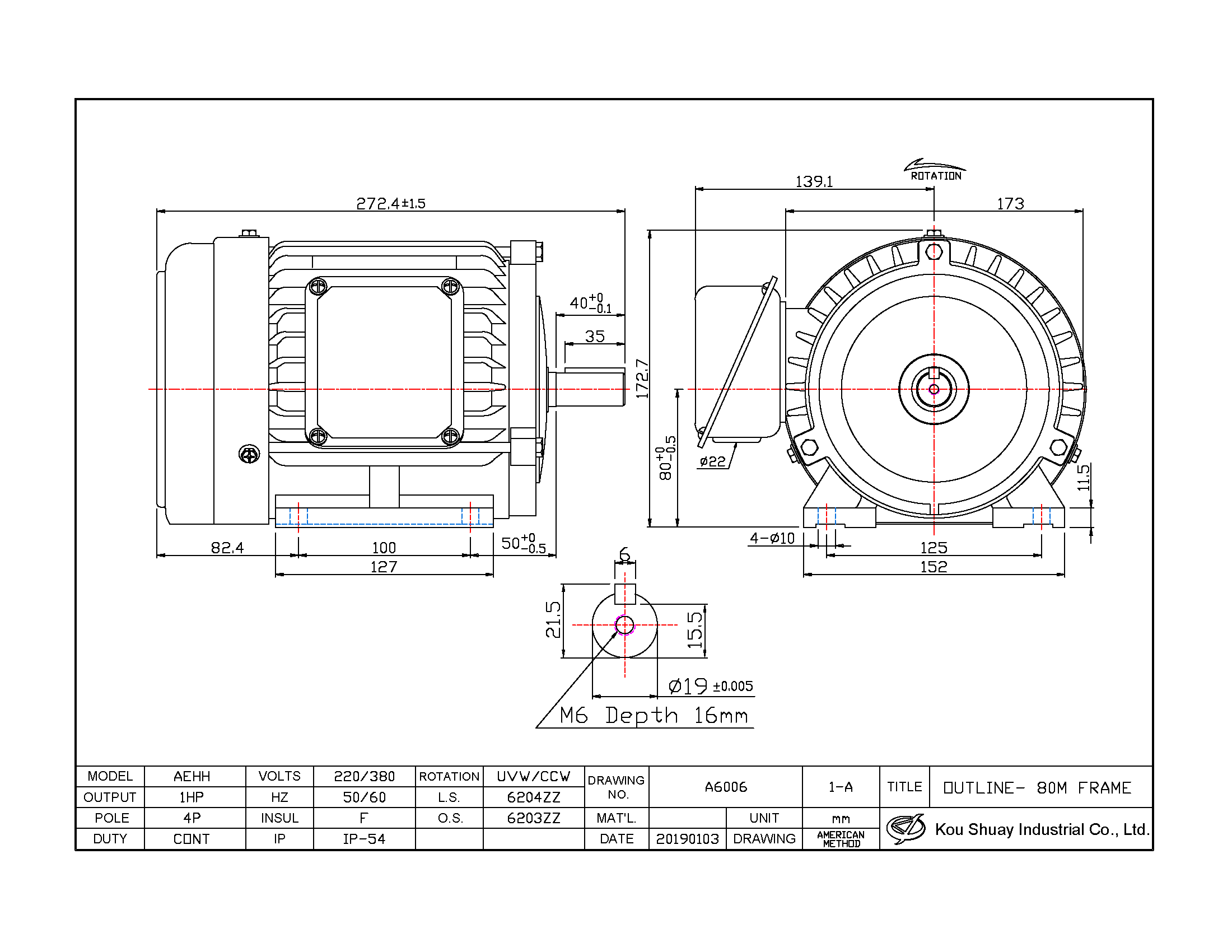 Type: TEFC (Totally Enclosed Fan Cooled)
Certification (optional):UL, GB, CE, BSMI