1HP IE3 General Purpose Motor, 3460RPM, Cast Iron Frame, Horizontal
Foot Mounted IE3 Standard Cast Iron Motor
1HP IE3 General Purpose Motor, 3460RPM, Cast Iron Frame, Horizontal
Frame 80M, Efficiency 82.0%
Features

IE3 high efficiency, energy-saving motor.
Applicable for wide range voltage and frequency (200V ~ 480V with 50HZ/60HZ).
Standard frame size and dimension.
High starting torque and low starting current.
Special copper winding processing.
F class insulation.
Description
The 1HP three phase squirrel-cage induction motor is belongs to AEHH series. The motor is two-pole with IE3 efficiency, following IEC and EU regulations. It has been approved by the Department of Energy (D.O.E., United States) with NEMA premium efficiency. The motor has cast iron frame with foot mounted installation. The frame number complies with the IEC international standard and can be interchanged with other motors. IP 54 protection is applied with standard waterproof and dustproof.

The efficiency for each voltage has been tested in Kuo Shuay UL lab with reliable report. The applicable voltage can cover 200V, 220V, 230V, 240V, 380V, 400V, 415V, 440V, 460V, 480V, with frequency 50Hz and 60Hz. The certification includes UL (North America), BSMI (Taiwan), CE (Europe) and GB2 (China).
3 Phase Standard AC Motor, Industrial Motor, Standard Induction Motor, B3 Electric Motor, IE3 Motor
DRAWING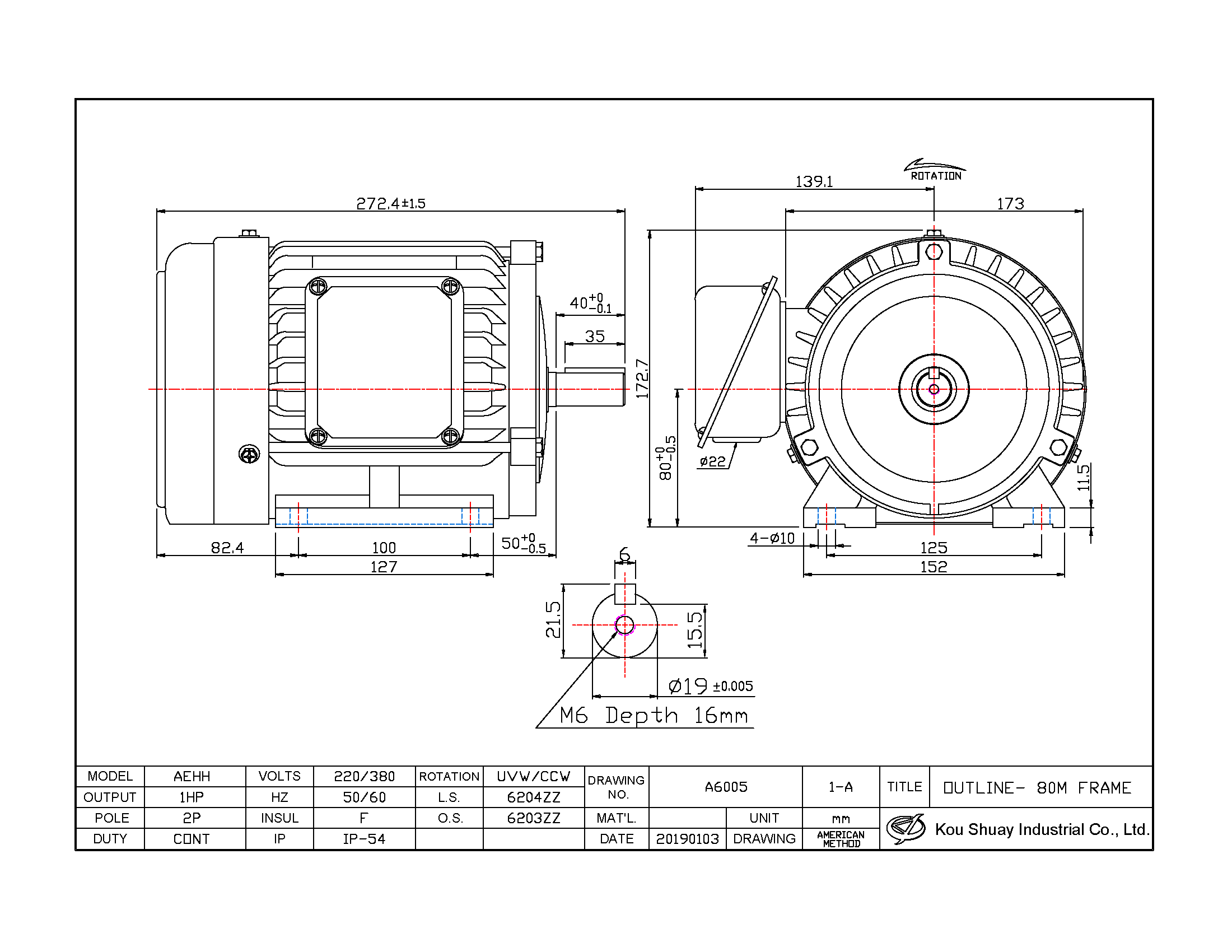 Type: TEFC (Totally Enclosed Fan Cooled)
Certification (optional): UL, GB, CE, BSMI