20HP IE3 General Purpose Motor, 3550RPM, Aluminum Frame, Horizontal
Foot Mounted IE3 Aluminum Frame Motor
20HP IE3 General Purpose Motor, 3550RPM, Aluminum Frame, Horizontal
Frame 160M, Efficiency 91.0%
Features

IE3 efficiency, excellent energy-saving performance
IP55 dustproof and waterproof rating.
Wide frequency and wide voltage, applicable range: 200V ~ 480V, 50Hz/60Hz.
Class F insulation, long heat-resistant life.
Aluminum compact frame design provides an attractive appearance and efficient heat dissipation.
The weight is 35% lighter than the traditional cast iron casing motor.
Description
This 20HP2P motor has superior performance and functionality. It can reach IE3 efficiency, and the energy saving effect is remarkable, which can save energy and reduce energy costs at work. In addition, it also has an IP55 dustproof and waterproof rating, which protects the internal components from dust and moisture, ensuring the stable operation of the motor and increasing its service life. This motor is designed for wide frequency and wide voltage, applicable from 200V to 480V, and supports power frequency of 50Hz and 60Hz. This enables the motor to operate efficiently and stably at different voltages and frequencies, making it ideal for a wide variety of applications worldwide. The insulation class of the motor is Class F, which has excellent heat resistance and can operate stably for a long time in a high temperature environment without being affected. This makes the motor especially suitable for high temperature environments or long-running applications, and can provide reliable performance. In addition, the aluminum compact frame design of the motor not only makes it look beautiful, but also has excellent heat dissipation effect. This helps keep the temperature of the motor stable and provides greater efficiency and performance. Compared to traditional cast iron housing motors, the motor is 35% lighter, making it easier to install and transport while reducing energy consumption. In summary, this motor has become a high-performance product with advantages due to its high efficiency and energy saving, dustproof and waterproof grades, wide-band and wide-voltage design, long heat-resistant life, and beautiful heat-dissipating aluminum shrink frame design. Regardless of the application, this motor provides stable and reliable operation and excellent performance.
3 Phase Standard AC Motor, Industrial Motor, Standard Induction Motor, B3 Electric Motor, IE3 Motor
DRAWING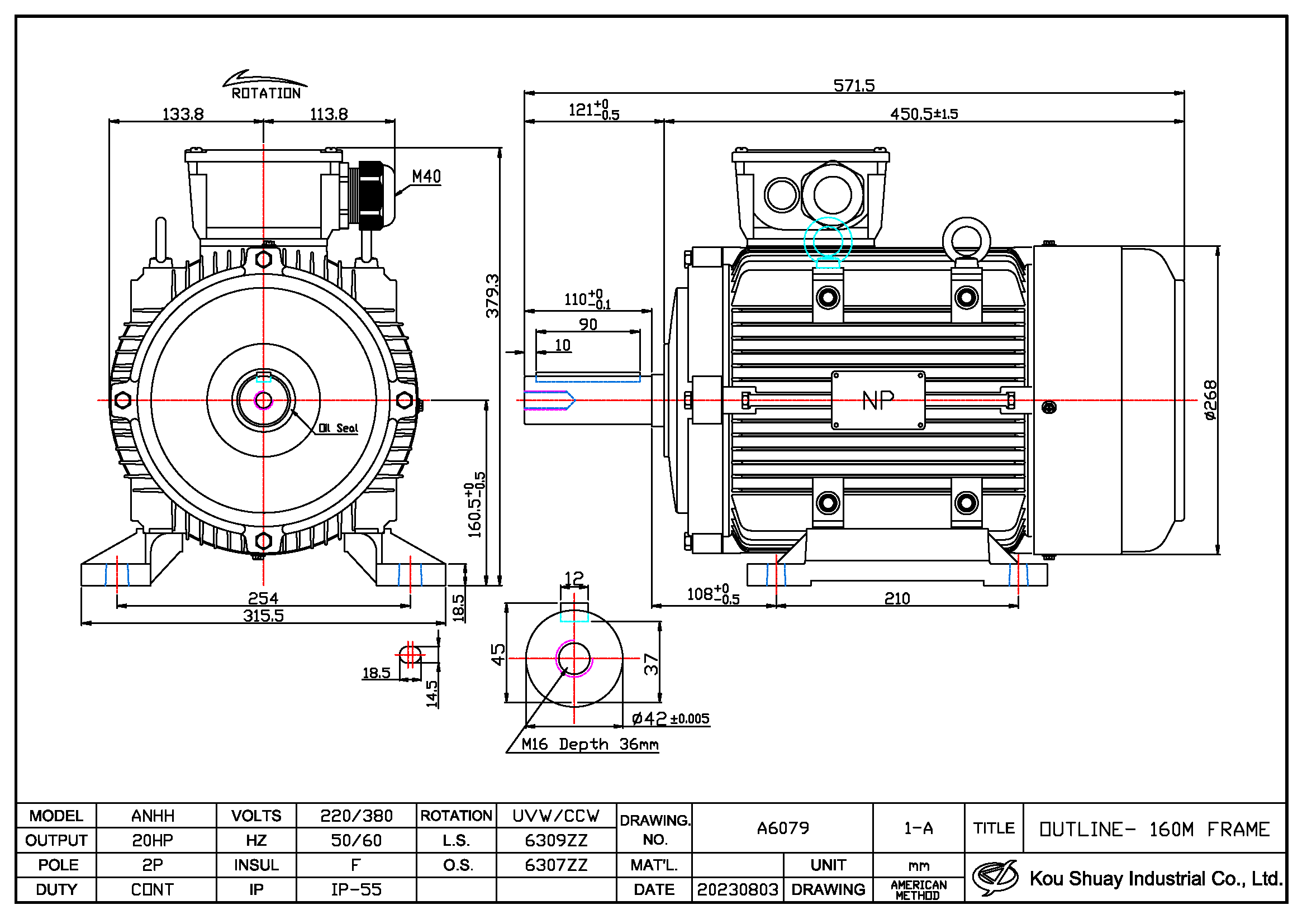 Type: TEFC (Totally Enclosed Fan Cooled)
Certification (optional): UL, CE, BSMI