15HP IE3 General Purpose Motor, 3545RPM, Aluminum Frame, Horizontal
Foot Mounted IE3 Aluminum Frame Motor
15HP IE3 General Purpose Motor, 3545RPM, Aluminum Frame, Horizontal
Frame 160M, Efficiency 91.0%
Features

High efficiency motor (IE3).
Aluminum frame with lightweight and good heat dissipation
Terminal box is rotatable for 4 x 90 degree.
Applicable for wide range voltage and frequency (200V ~ 480V with 50Hz/60Hz).
F class insulation, increase the lifecycle of the motor.
Dimension following IEC standard with high quality aluminum frame.
High grade, electromagnetic steel laminations for lower core loss and high efficiency.
Description
The 15HP2P high efficiency squirrel cage induction motor has an aluminum frame and use a smaller motor iron core. Therefore, the weight is lighter than traditional iron cast motor. It follows the international standard IEC60034 and designed for IE3 efficiency equivalent to premium level in North America). Compared to traditional or IE1 motor efficiency (87.5% or less), IE3 efficiency is 91%. It helps our customer saving the energy cost each year. The motor is certificated by UL (North America), BSMI (Taiwan) and CE (Europe), and sold to Europe, America, Japan, Korea, China and many countries.

The advantage of Kuo Shuay's high efficiency motor is the wide range of the voltage and frequency cover (200V, 220V, 230V, 240V, 380V, 400V, 415V, 440V, 460V to 480V, with frequency 50Hz and 60Hz). It helps our customer reduces the inventory cost and easier to control their stocks. On the other hand, the motor has three positions of foot mount installation. The terminal box can be rotated 90°, let customers have more flexibility to adjust the cable power entrance and foot mounted position.
3 Phase Standard AC Motor, Industrial Motor, Standard Induction Motor, B3 Electric Motor, IE3 Motor
DRAWING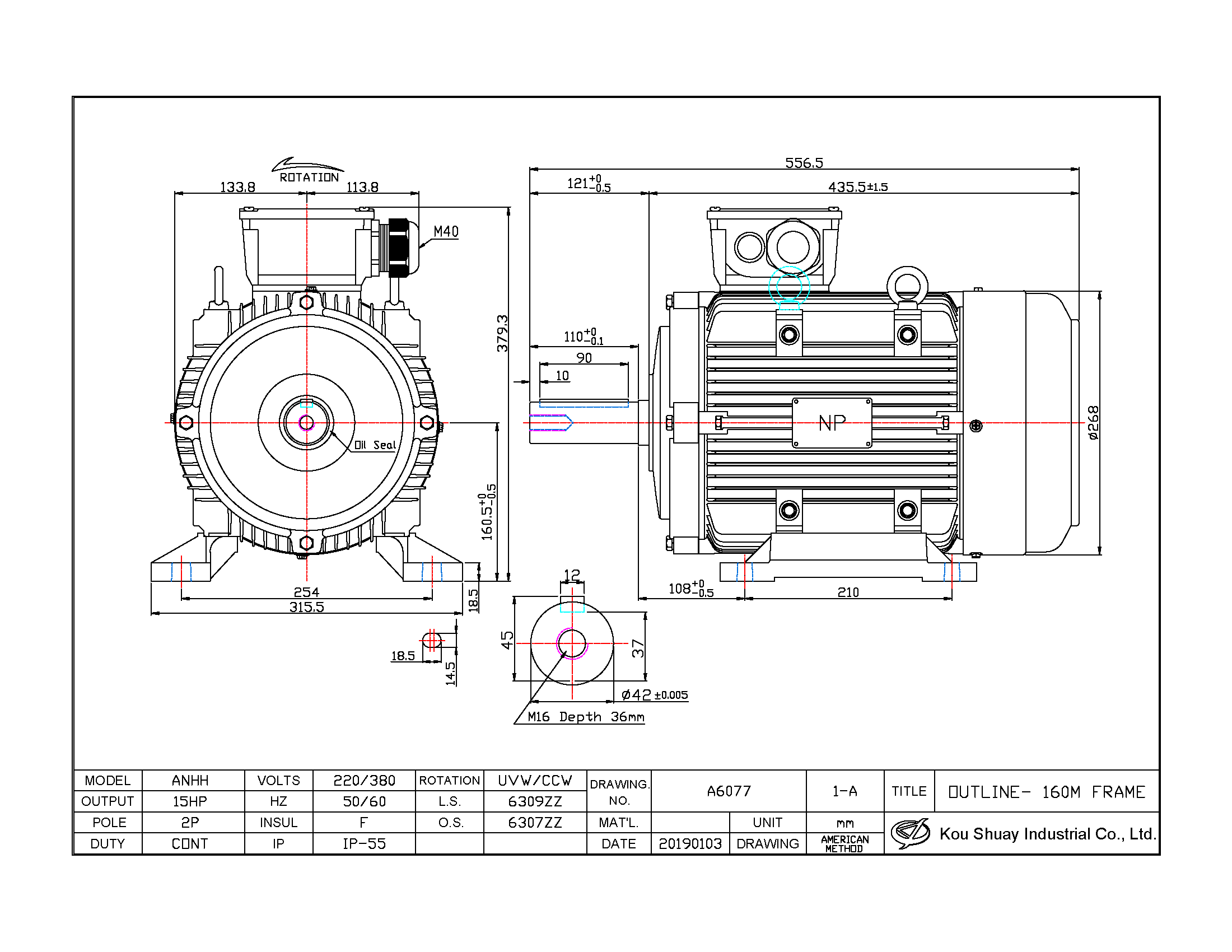 Type: TEFC (Totally Enclosed Fan Cooled)
Certification (optional): UL, CE, BSMI